Phnom Bok Temple (Prasat Phnom Bok) Tours and Activities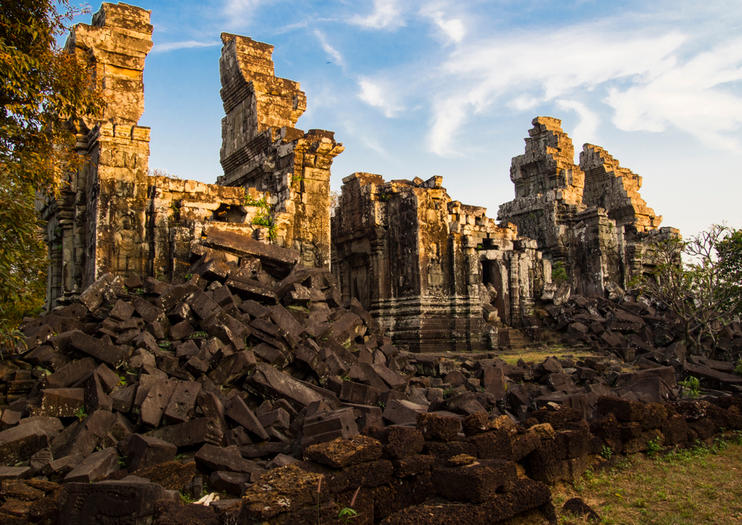 One of a set of three early hilltop temples built by Yasovarman I, who reigned 889–910, Phnom Bok Temple sits away from the main Angkorian monuments, on the route to Banteay Srei. It's a small temple with towers, the ruins of two libraries, and the remains of a 13-foot-tall (4-meter-tall) lingam (phallic symbol). Most people come here for the views.

The Basics
Phnom Bok sits some distance away from the main Angkor Archaeological Park, but you'll still need an Angkor Pass to visit. Choose between 1-day, 3-day, and 7-day options. Relatively few travelers head out this way and brave the sticky ascent of the 695-foot-high (212-meter-high) hill, and Phnom Bok is not a common stop on tours. Consider visiting on your way to or from Banteay Srei or the Roluos Group, brick-built temples from around the same period.

Things to Know Before You Go
Phnom Bok Temple will be of interest to history buffs and lovers of views.
The steps are quicker than the path, but they're very exposed and can get extremely hot in the middle of the day. Bring water and sunscreen whichever route you're taking.
If coming to Phnom Bok for sunset, bring flashlights for the descent and opt for a local driver who knows the road.
Phnom Bok Temple is not wheelchair-accessible.
How to Get There
Phnom Bok stands about a 14-mile (23-kilometer) drive northeast of Siem Reap, off the main road to Banteay Srei. There's no road access to the temple, which is at the top of the hill, and no public transport options. Many travelers opt to book a driver rather than brave Cambodia's potholed roads.

When to Get There
Like most Angkor-era monuments, Phnom Bok Temple is open from early in the morning until late afternoon. It's rarely visited, so swing by at a time that suits your schedule, but aim to avoid the midday heat. If headed here for sunset, note that the roads can be particularly challenging after dark.

Who Was Yasovarman I?
Exploring Angkor means encountering a lot of long-dead kings. Yasovarman I didn't just create three landmark hilltop temples—Phnom Krom Temple, Phnom Bok Temple, and Phnom Bakheng. He was the first Khmer king to move the capital city to the Angkor area, founding a city he called Yasodharapura. The legend that he lived with leprosy is untrue.
Address:
Angkor Wat, Cambodia
Read More
Show Less
0 Tours and Activities to Experience Phnom Bok Temple (Prasat Phnom Bok)
---